Here you will find everything you need as a clinician or pharmacist to prescribe and provide IQoro to your patient.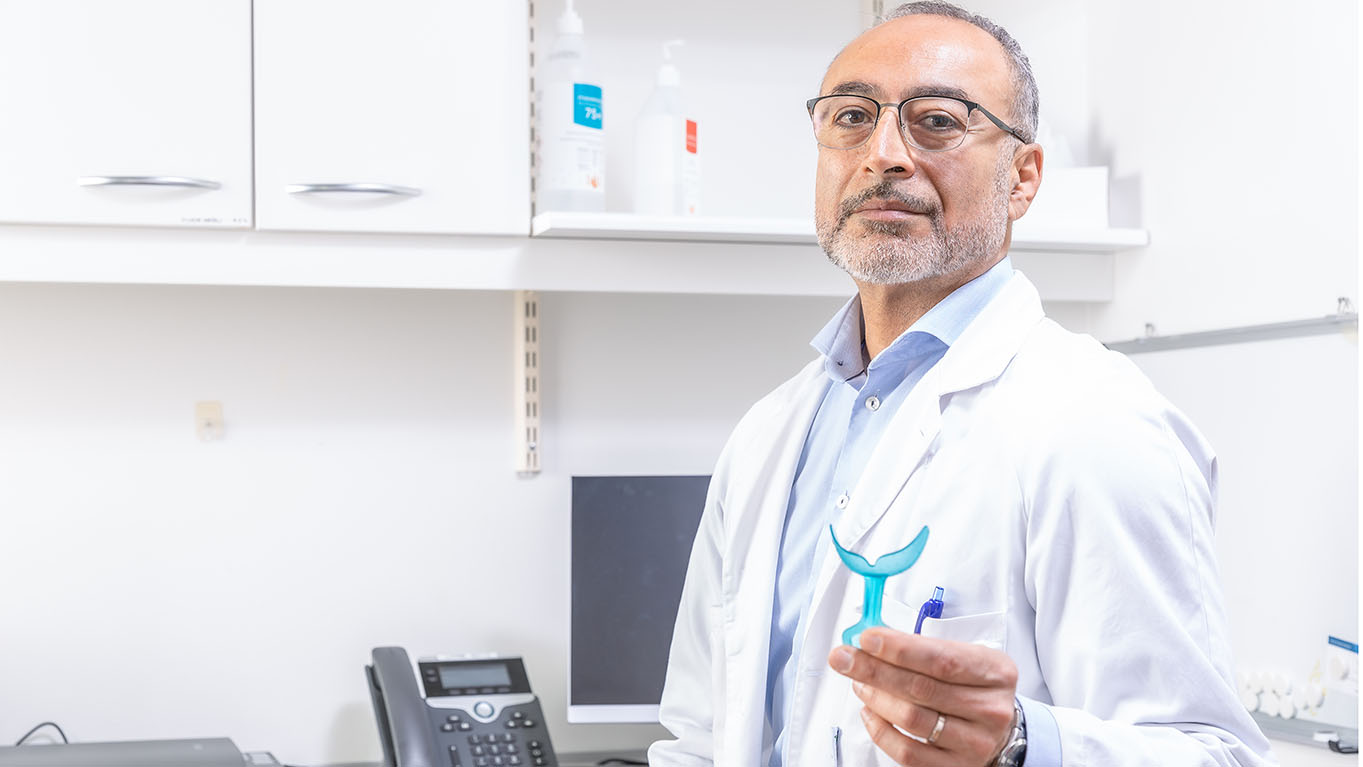 Fulfilling a prescription
To fulfil an NHS prescription, IQoro devices may be ordered from our wholesaler:
Sigma Pharmaceuticals PLC
HD House
Imperial Way
North Watford
Hertfordshire
WD24 4BB
| | | | |
| --- | --- | --- | --- |
| Item | DTA ref. | Sigma ref. | PIP code |
| IQoro – Adult | 214-001T | IQOROAD | 2147598 |
| IQoro – Child | 214-002T | IQOROCH | 214-1532 |
Sigma plc contact details
Email: [email protected]
Website: https://www.sigmaplc.com
Telephone: 0800 358 4427
Orders to: [email protected]
Contact: Helen Aston (customer services manager)

Listing details
IQoro has been listed and can be found in several relevant databases for health professionals in the UK.
Drug tariff details
IQoro is listed in the Drug Tariff Part IX for England and Wales from May 1st, 2022, and separately for Northern Ireland and for Scotland.
It can be found in the category 'Neuromuscular Treatment Devices'. The two versions of IQoro listed there are:
Adult size 214-001T
Child size 214-002T (up to 8-10 years).
Dictionary of Medicines and Devices
IQoro is listed on the dm+d and is searchable on the following page: NHS dm+d browser
EMIS
IQoro is listed on EMIS. There was a short delay between IQoro gaining prescription status and being listed. This is now done.
Vision
IQoro has been added to the 'Vision' system managed by Cegedim Healthcare Solutions.
The entries there are:
IQoro neuromuscular treatment device adult 214-001T (MYoroface AB)
IQoro neuromuscular treatment device child 214-002T (MYoroface AB)
If you cannot yet see the listing, you will need to ensure that your system version is at least
as current as June 2022. An update is available through the Cegedim website: visit website
BNF
Some clinicians have said that they have failed to find IQoro on the BNF.
This is correct, since BNF only provides information regarding medicines. IQoro is a device and not a medicine, and will therefore not be listed there.
NICE say: "The BNF aims to provide prescribers, pharmacists, and other healthcare professionals with sound up-to-date information about the use of medicines."


We have also checked specifically with the BNF who say:
"The BNF focuses on drugs and their administration and includes only a small range of devices that may be prescribed. The devices included in the BNF are primarily used together with medicines to enable effective use of these medicines (such as spacers, or glucose test strips), or are present in specific sections of content (gloves as part of dressing packs in the wound management section).

The Drug Tariff and DM+D include many devices that are outside the scope of the BNF, such as catheters, incontinences appliances, laryngectomy and tracheotomy appliances, and blood testing strips for International Normalised Ratio (INR).

The absence of a product from the BNF does not preclude its prescription. Any product within the Drug Tariff can be prescribed on an NHS prescription unless it appears within Part XVIIIA of the Drug Tariff, although there may be additional restrictions on prescribing certain products depending on local policies or the need to meet specific criteria stipulated within the Drug Tariff."
Referral for prescription
Clinicians without prescribing authority may wish to refer their patient to a GP for IQoro prescription. In these cases, a referral letter may be needed.
Below, you'll find a sample prescription letter that may be used as a template when making a referral to a GP or other prescribing practitioners.
Alternatives to prescription
1. Independent therapists and NHS institutions will sometimes want to purchase a quantity of IQoro devices that can be held in stock for immediate use.
Such orders should be placed with IQoro's reseller to the NHS:
HENLEYS MEDICAL SUPPLIES LIMITED
Brownfields, Welwyn Garden City, Herts AL7 1AN
Tel: 01707 333164
Fax: 01707 334795
www.henleysmed.com
2. Individuals may purchase IQoro themselves from our website www.iqoro.com. The purchase price in the UK is £145.00 plus postage.
Costs for the patient
In some parts of the UK the device will be issued free-of-charge, in others a prescription charge will apply.
The cost benefits to CCGs, ICBs, PCNs and NHS Trusts
In the case of procuring stocks for immediate deployment, it is likely that a case may need to be made internally to justify the purchase. The following data may be helpful in showing the potential cost savings associated with IQoro treatment.
Depending on the condition being treated the arguments are slightly different and therefore the following two documents show the reasoning in the cases of both treating dysphagia, and treating acid reflux conditions.

PDFs containing cost benefits of improved patient outcomes:
Cost benefits of dysphagia treatment
Cost benefits of GERD treatment